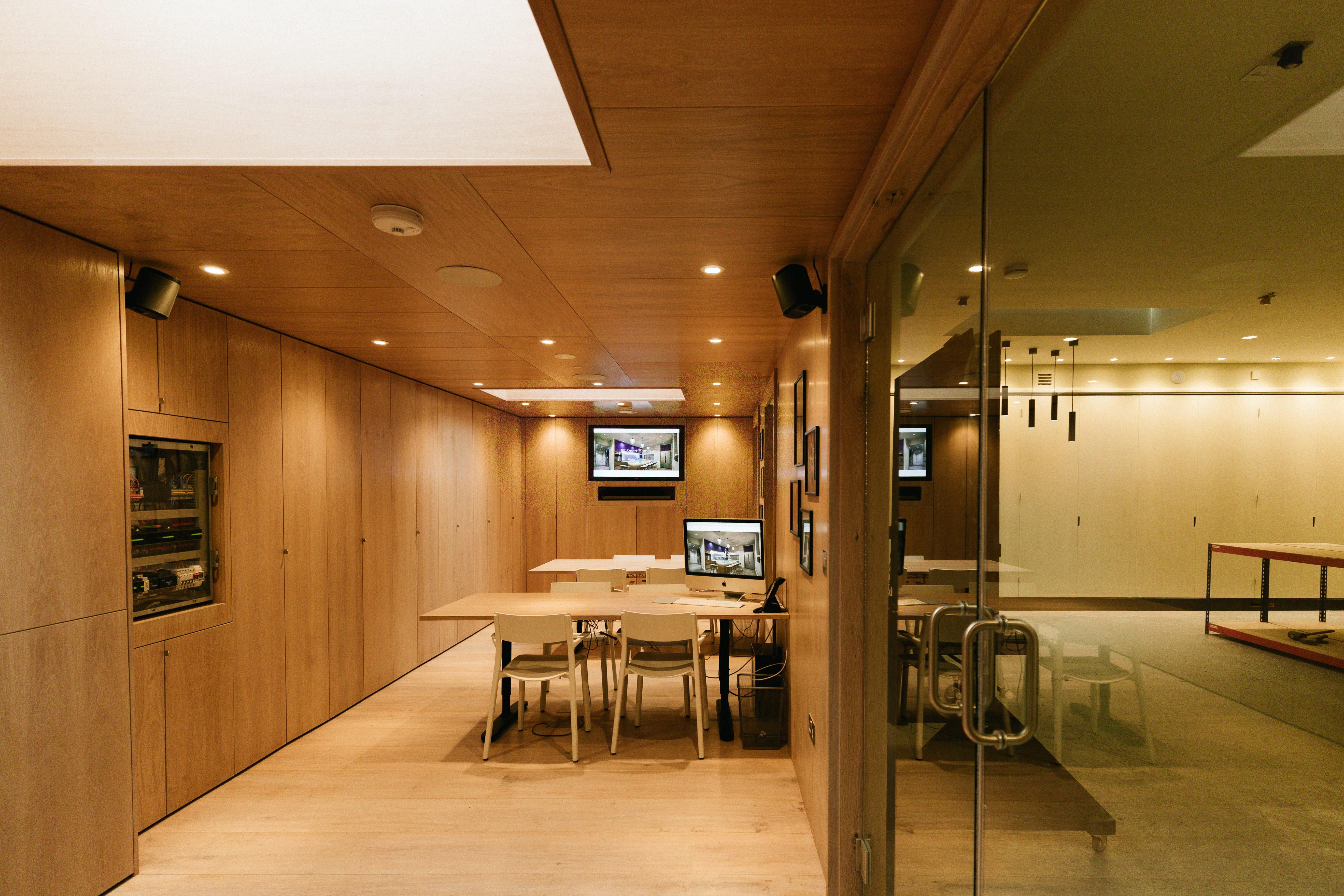 JSJ Innovation Hub, Showroom of the Future (£60k)
Overview
A Smart Home is never truly understood or appreciated until it is seen first hand. So why not come and experience it for yourself? Learn the benefits and features of a Loxone Smart Home at our North London Showroom. We will happily provide you with a free demonstration of the system and even allow you to have a play yourself. Come and be inspired, find out why a Loxone Smart Home is right for you. You'll also leave with a detailed & free, no obligation quote. We apply automation to all aspects of our business, even our quotes/design in order to deliver a fair and repeatable process with no room for human error.
Challenges
Showing new clients our existing projects didn't always capture the range of possible features. We needed to create a space that was commercially viable for us and showcase all the possibilities of a smart home in a tasteful way without showing the tech. The building had to be a functional office & workshop in the day, cinema at night and Fort Knox whilst we were away. All the above whilst being able to securely take deliveries remotely. As such we've created from scratch, with our own Construction Team – The Innovation Hub!
Solutions
Loxone was used to demonstrate how 1 building can have multiple use cases whilst being extremely functional and lean in terms of the costs. This was achieved using the following features:
Smart Lighting – daylight control, RGBW lighting
Smart Alarm – 1 discrete sensor used for present & absence detection alongside the alarm
Smart Blinds – Save on Heating or AC by using automatic shading to reduce/increase heat build in all or some rooms – All thanks to the free solar gain we get from the sun
Privacy Blinds – change the transparency of the window to reduce light in movie mode
Smart Access Control – remotely open the shutters whilst keeping the gate closed for secure deliveries
Smart Audio – motion controlled music in the toilets, Text to speech
Surround Sound – immersive audio
Invisible Switch – control audio & lights with wet hands by making a surface interactive
Fire safety – If we sense Smoke, Heat or CO2, as soon as it occurs you'll know, wherever you happen to be in the world
Cinema – workshop converts to a cinema with 1 voice command, or touch of a button. All the above form part of a scene easily created in the Loxone app.
Energy – Energy monitoring & management to track and graph daily costs/usage
Voice – use Amazon Alexa, Siri, or Google home to control any of the above with your voice at any stage in the future.
What we installed
Loxone Miniserver, Intercom, Keypad

Loxone Dimmer, KNX , Relays, 1-Wire, Air Base & Modbus Extension
Surface Touch (Interactive Surfaces)

Faradite Switches & Sensors
Hikvision CCTV
Arcam & Sonnance Amplifier
Sonnance & Wisdom Speakers
Sonos Audio
Gallo Acoustics
Control4, RTI & URC
Sapphire Projector Screen
Epson Projector
Skylights
Privacy glass
Energy Monitoring, UPS
Geofencing
Voice Control (Siri, Google & Alexa)
Location
North London